The Gold Standard in Gravity-fed Water Purification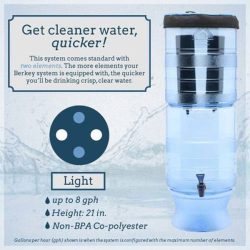 Light Berkey® Water Purifier Bundle
How do BERKEY® SYSTEMS work?
Berkey Natural Purification Systems are the World's Most Powerful and Economical Personal Water Purification Systems – Providing Reliable and User-friendly Water Purification in Both Normal and Hostile Filtration Environments. Moreover, Berkey systems are capable of purifying both treated water and untreated raw water from such sources as remote lakes, streams, stagnant ponds and water supplies in foreign countries, where regulations may be substandard at best. A Berkey is perfect for everyday use and is conveniently portable for use in camping or any environment where electricity, water pressure and/or treated water may not be available.  Berkey's are popular with families and communities that practice  emergency preparedness.
"Extremely happy with our Royal Berkey. Stephen's guidance through the purchase was excellent. The setup & maintenance instructions he includes are clear & straightforward. Our water, municipally treated, is now clean & fresh. Addition of the Shungite stones really enhances the "crispness" of the water. My houseplants also love it; a "drink" of Berkey water and they responded almost immediately. I could see the difference within a few hours of watering, vivid and beautiful coloration. Customer service & followup is exceptional. Thank you Stephen & Jacinta."
Ruth, Alberta Jan 17, 2023
"Hi Steven, still loving our Berkey and use it non-stop! In fact, we would like to order another one for our daughter for Christmas if possible. "
Kim - Edmonton, Nov 16, 2022
"Wow! You are fast.  I absolutely love my berkey, just a question on trace minerals, does the berkey filter the good ones? Do you add trace minerals to your water?"
Tanis - Edmonton, Sept 16, 2022
Yes we got our berkey up and running and what a difference it has made in our well water. Definitely worth the investment.  Derek – Edmonton
Excellent!! Thank you very much for the confirmation.
Looking forward to having even better water now with the addition of these filters 🙂
Also: I cleaned the lower chamber without issue- happy to have sanitized everything now.


"Thank you so much for checking in. Our Berkey works great! I noticed that I drink more water now and I feel happier knowing what I'm drinking as well as what I'm cleaning my veggies with. Also, I gave the clean water to my cats the first night. My cats do not eat or drink near each other.. they are grumpy about that. But with the clean stuff, they were sharing the water dish right away and pushing each other to get at it haha.. it was amazing!"
"We love our Big Berkey! The water is wonderful to drink ! I am so glad for the option to buy the fluoride filters, as our town does fluoridate. I also appreciate all of the kind help you gave me surrounding my purchase:) The unit was easy to assemble with your instructions and watching how it is done on YouTube. Thanks so much for this quality piece of equipment. I am very satisfied with my new water filter:)"
Laurie and Wendy, Manitoba 2017
"We have our filter all set up and it's awesome! The red dye did not make it through! And the dog loves the water too. It's amazing how much more I enjoy drinking water now."
"The Berkey water is simply amazing sooo glad I decided to give it a try. I sure seem to be drinking way more now that the water doesn't taste like chlorine! I've just spoke to a good friend of mine about it and he's very interested. I sent him the link to your website."
Stephen, the products work great. I noticed the smell of chlorine in the tap water recently but the Berkey did its job in filtering the chlorine. The lab results posted on your site as well as http://www.waterfilterlabs.com/ helped in making the choice for a Berkey system that much easier.
My Berkey experience so far. Yes, it's so right! And my conscience was eating away at me in regards to bottled water. The water tastes better with a few days use, understandable.
Stephen and Jacinta are like the hosts at the Oasis of Pure Water & Optimism. I have a saying"…..friends don't let friends drink tap water" ! There are no Berkey suppliers in Saskatoon so I loaded up with the Traveler (sleek and shiny) and the Berkey Lite (my favorite) ! I also bought 4 black filters & 4 white filters to build 4 low-cost Berkey Purification Systems for my friends. Giving someone a Berkey water purification system; is truely a gift of love, it's the gift that keeps on giving. Many Days of Happiness to both of you. Thank you.
We really like our Berkey. Its design is visually appealing and it`s a no brainer to use. My granddaughter asks only for Berkey water because she says it makes her `happy`. (she is 4 years old). My husband didn`t think he would use it but I see him filling up the cooking pots with it. As well, he is the one that keeps it topped up. Thanks so much!
We set up our Big Berkey a month ago and we are loving it.It has completely taken the bad taste out of our well water. We no longer have to buy bottled water. Thank you !
Thank you Stephen and Jacinta for the incredible water filtration system and information. The Berkey we purchased has performed as promised. You asked us to try a test with our pets to see if they would choose one over the other…they will not drink straight tap water if Berkey water is available. Testing will continue. We are spreading the word to friends and family to do the research and pick a safer water choice themselves. Thanks again.
Mary and Wyatt, Alberta 2017
"Hi Stephen, It was great chatting with you today. I will be looking forward to getting the information on the Priming tool, the filters to replace on my Berkey and information on Shungite".
"Awesome, thank you! I DO appreciate your help with the stickers, EMF reader, information, etc. I hope you folks have a super weekend!"
 "Thank-you for being that magical Berkey distributor! I'm grateful for you both!"
"Hi Stephen, Thank you so very very much for the call!  It was absolutely awesome to speak with you and I thank you very much for your time. I hope you have a great evening and you made my day for sure! All the best"
"We're very happy with our Berkey, thanks for helping us to understand its process to make it work in an optimized manner!"